MOVING AND TRANSPORT SERVICES IN FLORIDA
Heading South? Our dedicated, caring team at MVM also serves Florida locations. Toledo, Ohio-based MVM Moving is pleased to provide moving, relocation, and transport services for individuals, families, and businesses from Ohio, Michigan, and Indiana who travel to Florida for long-term winter vacations and multi-month getaways.
THE MVM MOVING TEAM YOU KNOW AND TRUST SERVES FLORIDA, TOO
LET US MOVE YOU IN THE RIGHT DIRECTION
The friendly, familiar, professional moving team of MVM Moving is ready to alleviate any moving stress. We are your reliable moving service in Florida. We understand that Ohio, Michigan, and Indiana winters aren't for everyone, so we're happy to help our Florida-bound snowbirds in any way we can. 
Our moving team regularly makes long-distance hauls to and from Florida, including the cities of Fort Myers, Bradenton, Naples, Sarasota, Destin, Clearwater, Cape Coral, Panama City Beach, Tampa, Orlando, and others.
our process takes the stress out of moving
Long Distance Moves
Our team is equipped to handle long-distance moves to and from Monroe, Michigan and cities throughout the Southeast Michigan region. We specialize in cross-country moves as well as regional moves to cities across the Midwest.
Condo & Rental Moves
Our moving services cater specifically to the vibrant condo communities of Florida. With our expert team of professionals, we understand the unique challenges and intricacies involved in condominium moves, ensuring a stress-free and efficient process from start to finish.
Winter Home Moves
Whether you're relocating to Florida, Arizona, or any other sunny destination, we handle all aspects of your move with utmost care and efficiency.
In-Home Moves
The MVM Moving team in the Monroe, Michigan service area also offers in-home moving services. Whether it's moving specialty furniture or a couch down the hall, you can count on us for your full-service moving needs. Additionally, we are specialists in moving heavy and unique items, such as piano moving and gun safe moving.
Specialty Item Moves
Do you have a treasured possession that requires delicate handling and expertise when it comes to moving? Look no further! Our specialty item moving services are designed with the utmost care and attention, ensuring the safe transport of your most cherished belongings.
Disposal & Drop-Off
Our comprehensive moving services include hassle-free disposal of your unwanted items and donations to drop-off centers.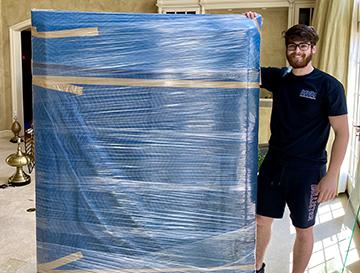 CONTACT US FOR MOVING HELP
Comprehensive moving plans and estimates are provided free of charge to anyone contemplating a move of any size. For your complementary, no-obligation moving quote, call MVM Moving at 844-424-MOVE (844-424-6683).
MVM Moving complies with all state and federal moving regulations, including membership to an arbitration program and compliance with motor carrier requirements (U.S. DOT 1444491 and PUCO 156647-HG).