Executive Team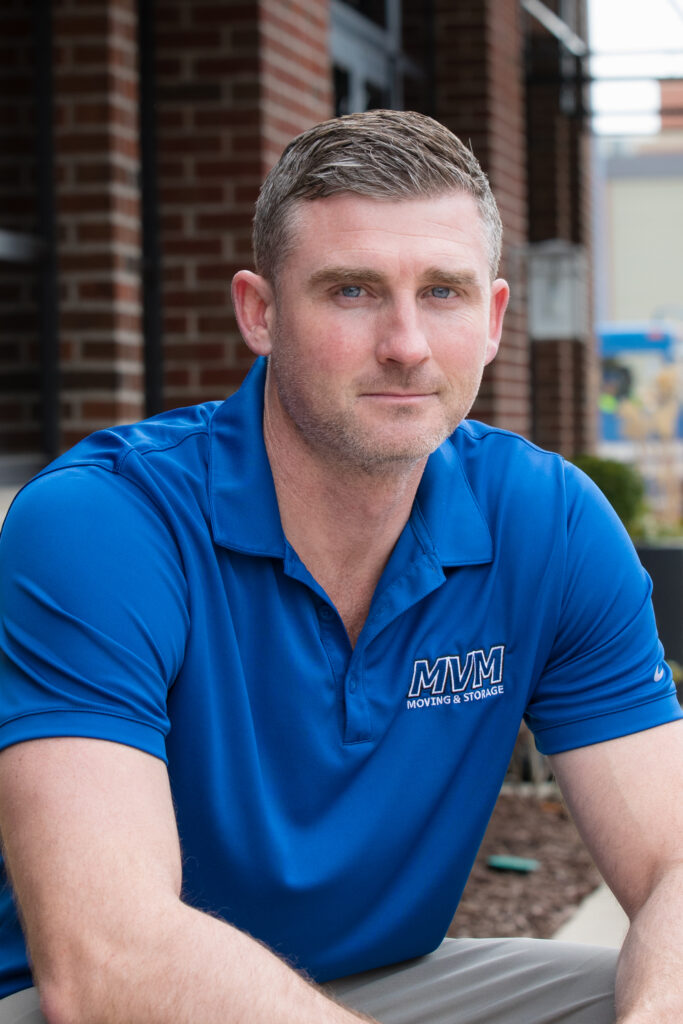 Tony Fox
President/CEO
Tony founded MVM Moving over 20 years ago while taking business classes at Owens Community College. One of his first jobs was at a moving company, which inspired him to realize that our community needed a high-quality moving company. MVM has grown thanks to Tony's ability to lead a team of people towards a common goal. "I feel I can navigate through different and unique personalities to point everyone in the same direction," he said.
While growing his business, he is proud that MVM has received awards from the state and many organizations, including being named a Best of Toledo by Toledo City Paper three years in a row. MVM is often seen on the local news stations offering insight on moving and related topics.

Outside of MVM, Tony enjoys fishing, ice fishing, hunting, boating, and spending time with friends and family. Tony has been married to his wife, Wendy, for 14 years. They have two sons: Collin (who also works at MVM during the summers) and Corbin. The family has four cats. "As a dude, I like cats more than I should," he admits. 
Tony's MVM Moving motto is: Do it right the first time.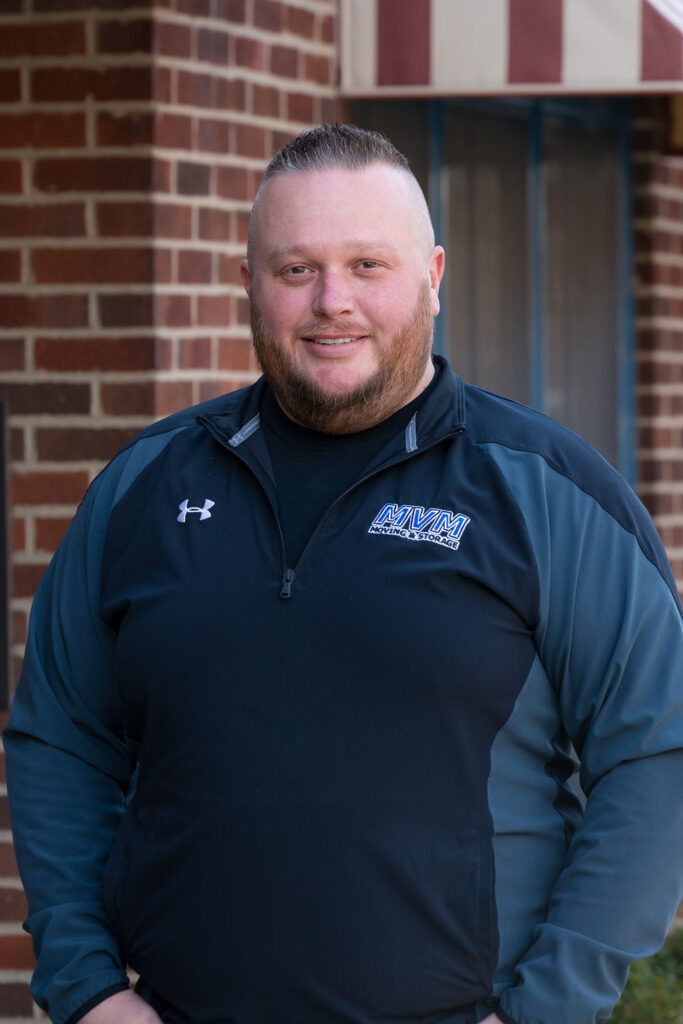 Ben Huenefeld
Chief Operating Officer
Ben has been with MVM for quite some time and has worn many hats through the process – from being on a crew to leading training to helping launch other MVM locations, and now overseeing company wide operations. So, he genuinely does knows what it takes to complete complex moves from start to finish. In his role, Ben is inspired by being able to stay in communication with all the MVM locations and see the whole company grow, from mover up to manager.
Fun fact: Ben is a certified firefighter/EMT/fire safety inspector who served as a lieutenant on a fire dept for 18 years. "I would work either 24-hour shifts or a 12-hour night shift and come work at MVM during the day. I retired several years ago to focus on my work at MVM," he explained.
Outside of MVM, Ben enjoys camping, boating, and riding ATVs and snowmobiles. He's also into muscle cars and used to drag race. Ben and his wife, Amanda, have two children, Wes and Madison, plus two shih tzu dogs.
His MVM Moving motto is: Pick it up & put it down.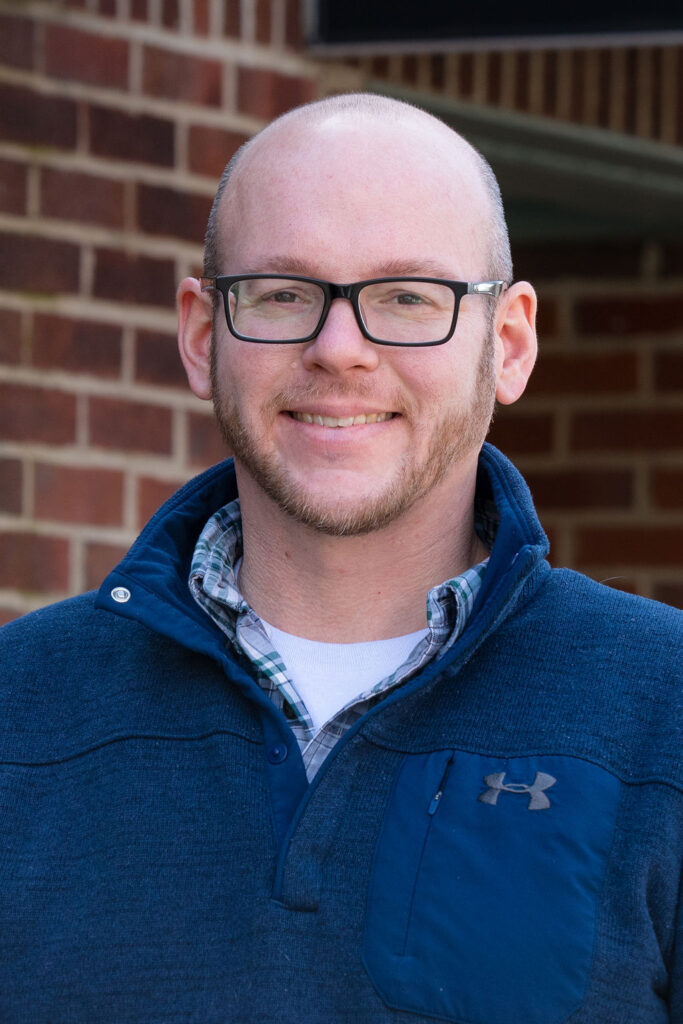 Brian Godlewski
Chief Marketing Officer
Brian came to MVM Moving in 2014, initially to help create some new marketing materials. He was quickly offered an opportunity to oversee company-wide marketing, advertising, accounting, and technology projects. He has loved watching the company and team grow and improve over the years. "I love being part of a winning team that not only takes care of its customers, but also its employees," he said. Today, he has over 20 years of sales, marketing, and management experience working in his own business and at other companies.
In his free time, he enjoys being outdoors, especially spending summers boating, fishing, traveling, and hanging out with family and friends. He has a black belt in karate, and is a board member for SAFS. His family includes his ten-year-old son, Bruce, plus a dog and three leopard geckos – Ninja, Speedy, and Godzilla.
Brian's MVM Moving motto is: Let's get things moving!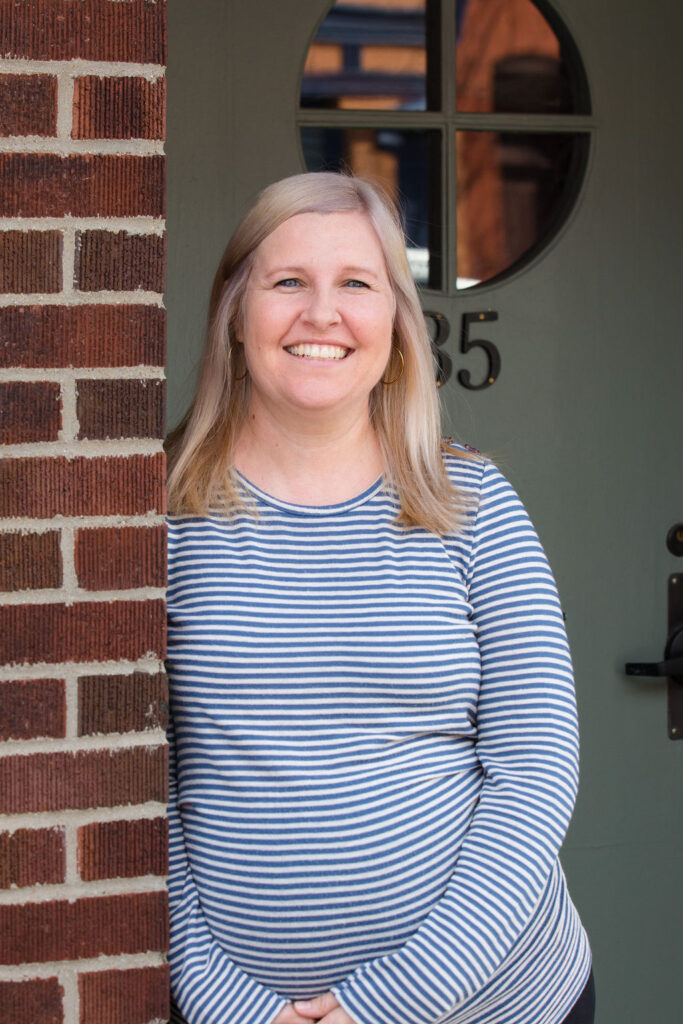 Kerstan Enriquez
Director of Human Resources
Kerstan started with the MVM team in 2021 as director of human resources. Her superior organization skills, dependability, and positivity are unmatched as she handles all day-to-day functions and keeps our trucks moving.
She graduated from the University of Toledo with a bachelor's degree in supply chain management with a minor in information systems. In her HR role, she enjoys introducing new MVM employees to all of the benefits MVM has to offer including retirement packages, health insurance, and paid time off.
In her free time, Kerstan enjoys camping with her family and taking trips to new destinations. She's also a foodie and loves discovering new restaurants. Fun fact: Kerstan loves all types of music (and dancing to it), from hip-hop and pop to oldies and rock, and everything in between. Kerstan and her husband, Nick, met in high school. They have three children – Aubriel, Sienna, and Noah as well as a dog, Zeke, a cat, Cinder, and a 12-year-old fair goldfish named Buckeye.
Kerstan's MVM Moving motto is: Customer satisfaction is key.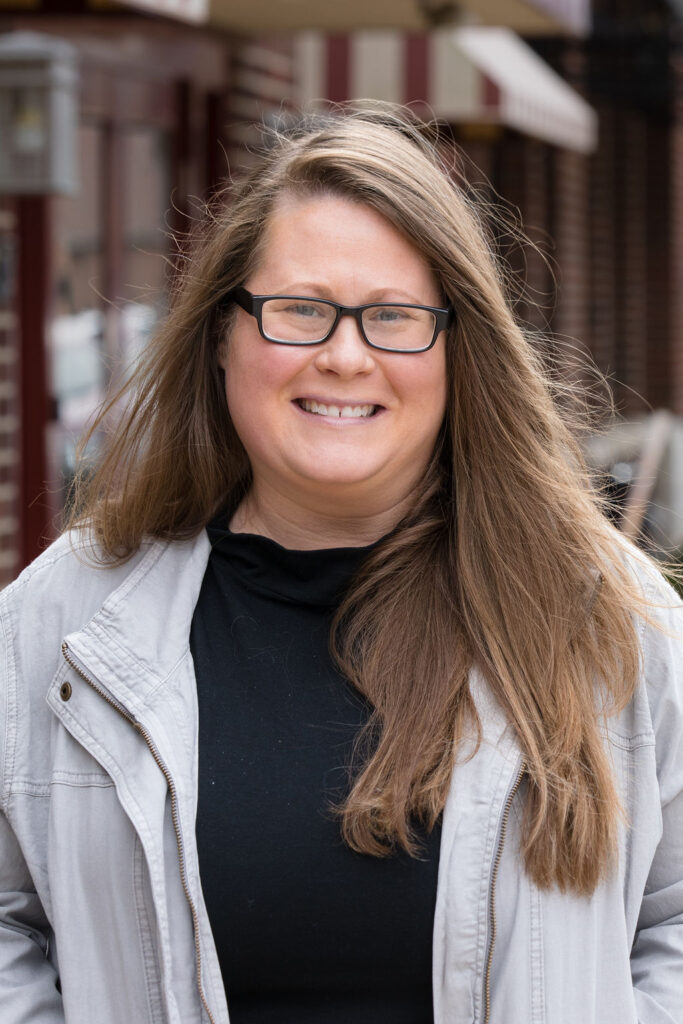 Stacy Letson
Compliance Associate
Stacy was hired at MVM in 2017 to fill a new role in human resources, but she quickly found herself interacting with clients, in addition to fulfilling her daily tasks. She was then promoted to dispatcher. Stacy helps MVM stay compliant with electronic logs.  She's spent her career working with local Toledo businesses in their accounting and human resource departments, previously to working for MVM.
Having grown up in the Toledo area, her interests reflect the natural surroundings and she can be frequently found camping, kayaking with her kids, or enjoying Lake Erie or one of the many parks in the area.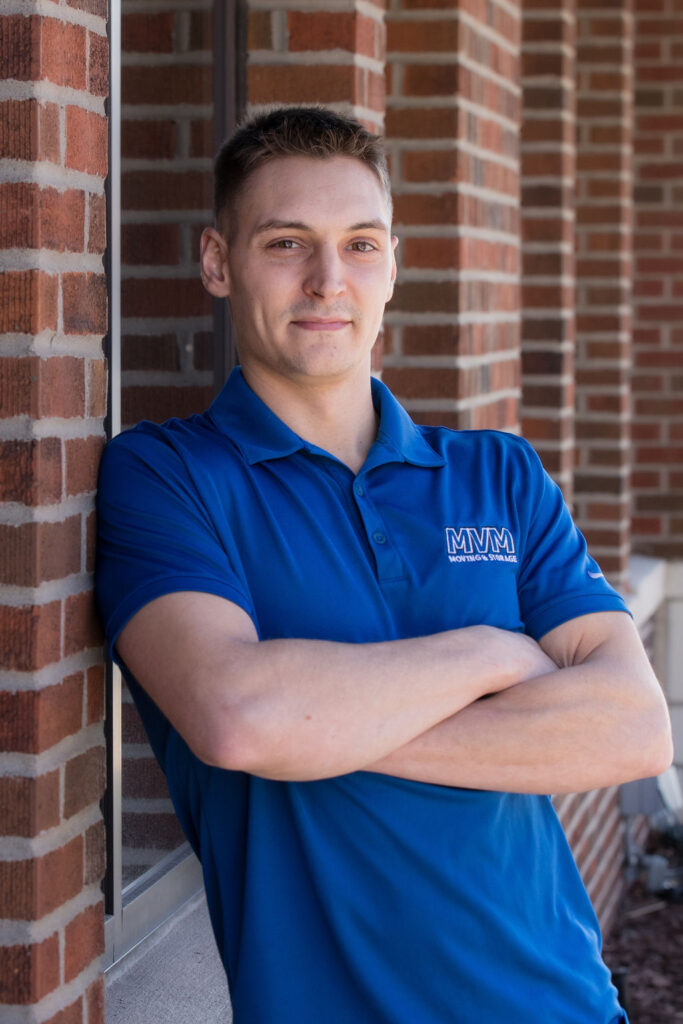 Derek Hosler
Director of Driver Safety and Training
In 2015, Derek started with MVM as a mover, and has gradually worked his way through several roles including driver, estimator, sales, and labor supervisor. Today, he serves as our safety and training supervisor where his responsibilities include orientation for new crew members as well as leading training sessions on safety, packing/moving, and driving. 
What Derek finds most rewarding about his role at MVM is teaching employees new and more efficient ways to do things, and seeing our crew members grow and work as a team to overcome challenges.
Fun facts: Derek is a certified personal trainer. He also has his CDL and will be working with our drivers to get their CDLs, too. Outside of MVM, Derek enjoys golfing, hunting, wrenching on vehicles, traveling, and exploring the unknown.
Derek's MVM Moving motto is: Keep calm and move on.
MVM Relocation Team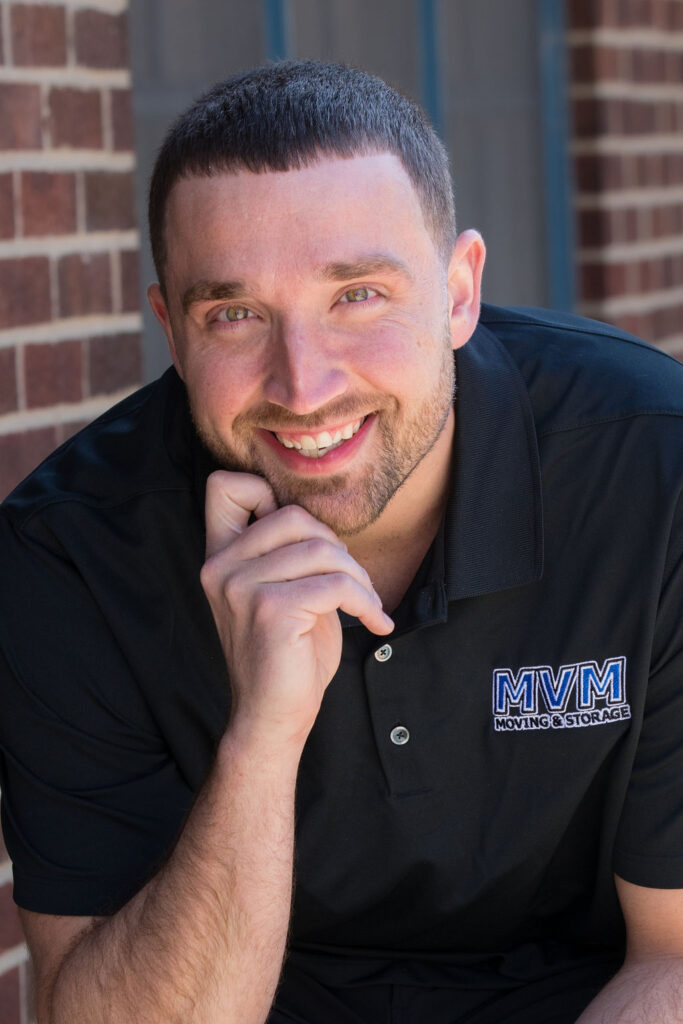 Levi Fox
Relocation Team Manager
Levi joined the MVM Moving & Storage family in 2011 while a junior in high school.  Over the past 10 years, he has held various roles such as mover and safety and training supervisor. With more than seven years of on-site moving experience, he is now on the sales team, ensuring each customer has a positive moving experience.
What Levi enjoys most about his role at MVM is being part of a winning group that truly wants to help people. Levi is passionate about his work and that is evident in his energetic and driven personality.

Outside of MVM, Levi enjoys anything outdoors and being active with running, working out, playing volleyball, and boating. Levi is also certified as a Chemical Dependency Counselor Assistant (CDCA). 
His MVM Moving motto is: Do things the right way.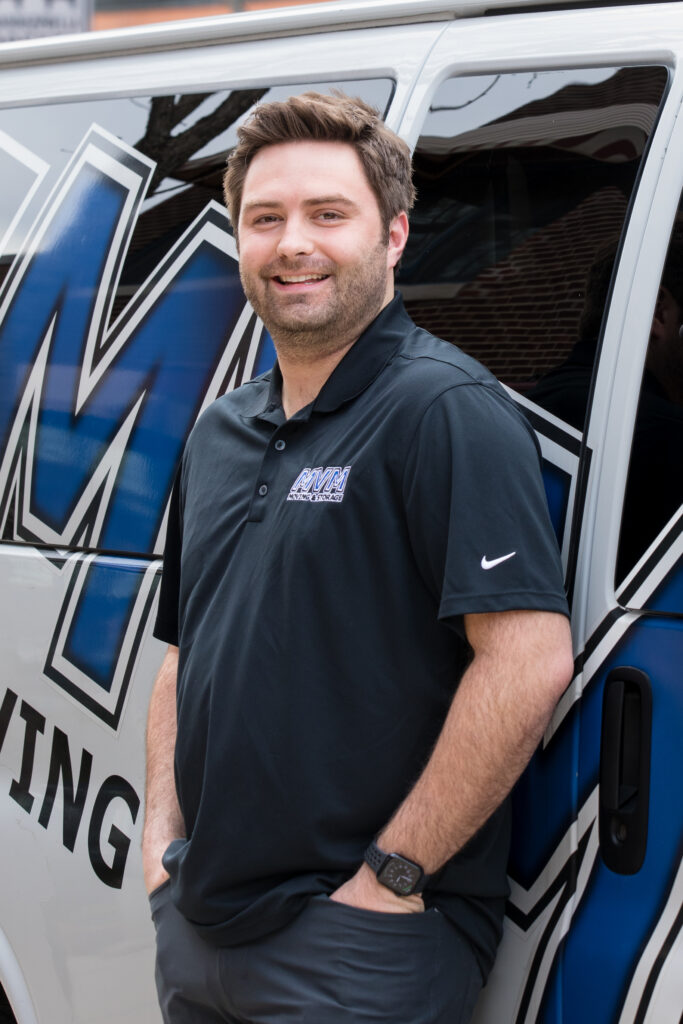 John Schmidt
Personal Move Coordinator
John joined MVM Moving & Storage in 2019 and is responsible for inbound sales, job confirmations, and follow-ups. He loves working with customers and facilitating their moves and helping them feel at ease during stressful times. He ensures MVM's customers receive the highest level of customer service as well as the right amount of movers and trucks – at the right time! His passion for his role in the company is demonstrated daily with his outgoing, dedicated, and competitive nature.

John holds a bachelor's degree in urban and regional planning from Miami University and a GIS Certification along with a Miami Mini MBA. He's also worked on a farming greenhouse where he picked up "quite the green thumb." Outside of MVM, John enjoys sailing, biking, and playing volleyball. He has two dogs, a 40-pound goldendoodle, Bodhi, and a yorkie, Pax, the MVM office pup. 
His MVM Moving motto is: Create your own path and walk it with joy.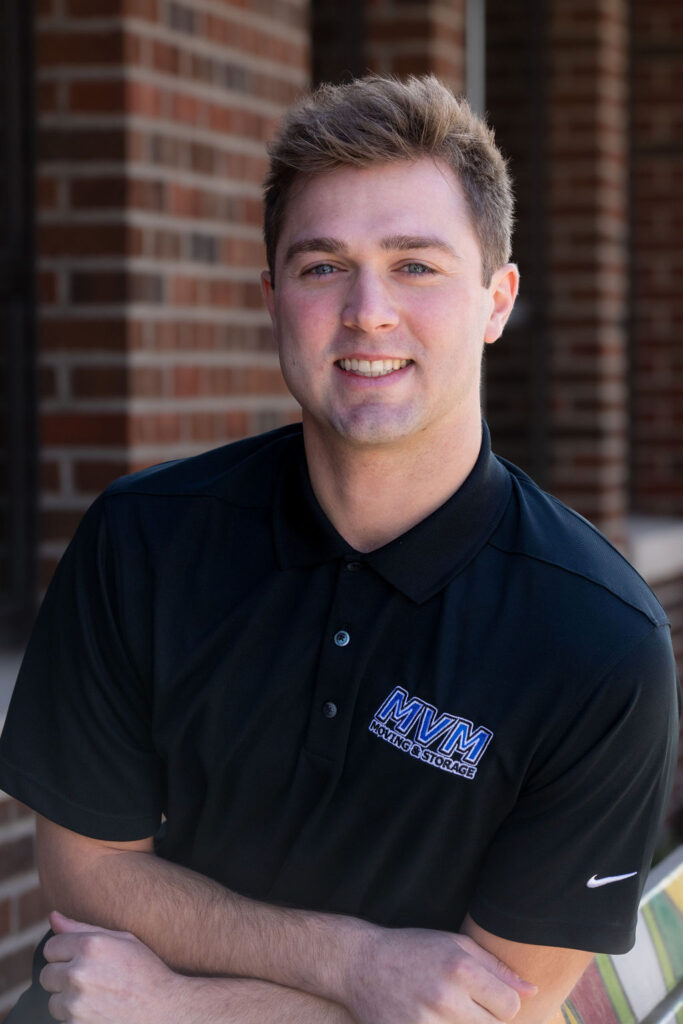 Noah Edwards
Personal Move Coordinator
Noah has been part of the MVM team since 2021 and works in the role of sale person. Noah says the most gratifying part of his job is helping to make the moving process easy for our customers and decrease their stress. "I love guiding the customer through our process and helping them feel at ease," he said.
Fun fact: Noah went skydiving for the first time about a year ago and would highly recommend doing it. His super powers include being driven, reliable, accommodating, and having a good sense of humor.
Noah recently graduated from the University of Toledo. In his free time outside of MVM, Noah enjoys kayaking and fishing at his lake house as well as skiing and skydiving. Although he doesn't currently have any pets, he says there is a random family of racoons that regularly come into his yard so he may be adopting them soon.
Noah's MVM Moving motto is: Don't be afraid to give up the good and go for the great.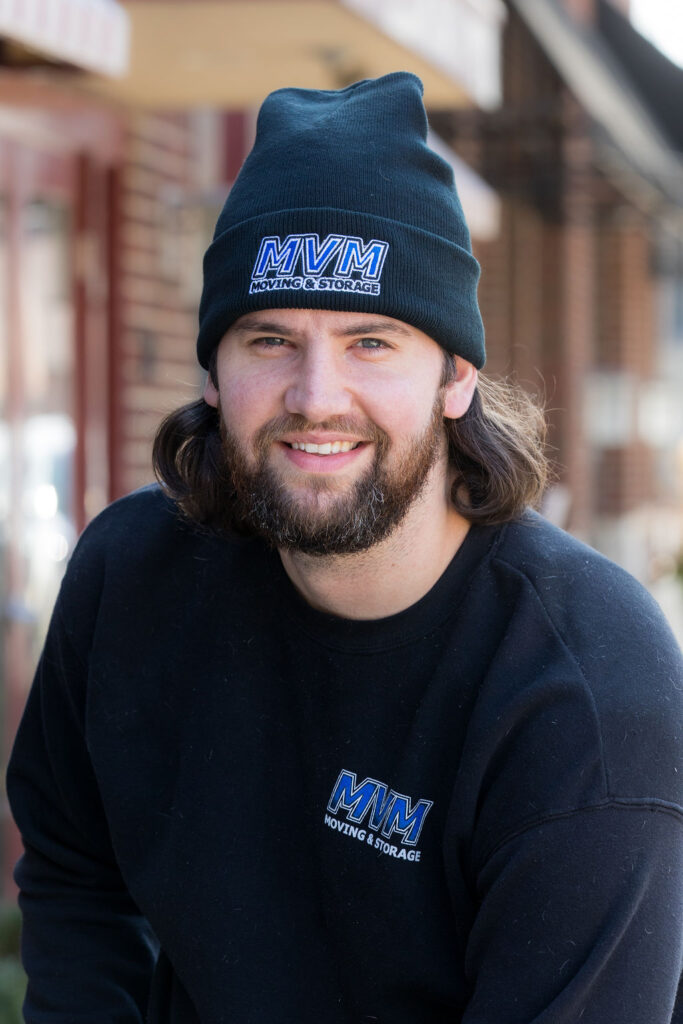 Tyler Bertsch
Personal Move Coordinator
Tyler has been with MVM Moving for over five years. He began as a  Moving Team Leader before transitioning to the sales team. He brings years of background experience in the moving industry to his role at the company. Tyer is known for his easy going personality which is beneficial when it comes to helping our clients feel at ease throughout their moving process. "It feels fantastic to help so many families. I love being able to help with the process of turning something very stressful into something easy," he explains.
Tyler enjoys video games and traveling in his down time. "I'm a little bit of a nerd," he says. He has traveled to 32 states and out of the country multiple times. Additionally, he is a bit of a math wizard with four years of college math classes among his credentials.
When it comes to pets, he and his girlfriend have a pit-greyhound mix named Byrdie, who is a bit of a character with lots of energy and keeps them busy on a daily basis.
Tyler's MVM Moving motto is: Stay calm and move on.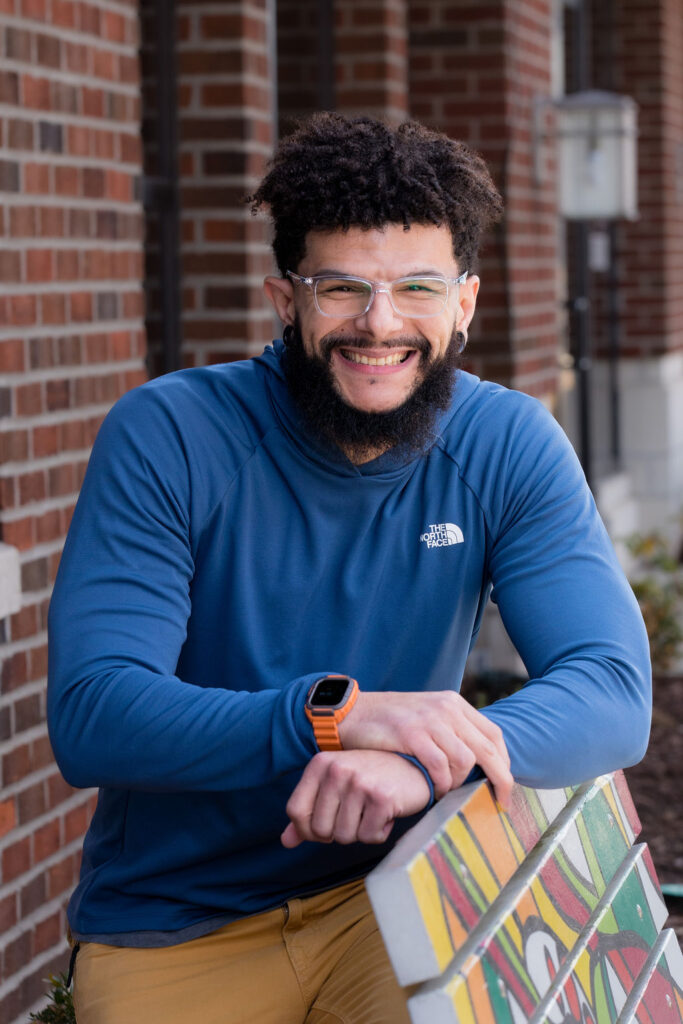 Joe Walker
Personal Move Coordinator
Joe started with MVM as a mover in 2021. His passionate, dedicated, and strong work ethic quickly caught the attention of senior leadership and he was quickly promoted to his current role as Personal Moving Coordinator. Joe is the last point of contact for customers before their move day. He carefully reviews and confirms details of every move at MVM, making sure everything is planned properly. Joe is proud to serve the community and work with an industry-leading moving company.

Joe is an avid golfer (achieving two hole-in-ones so far!) who also enjoys running, playing volleyball, and traveling. Fun fact: Joe is also a musician and has played with the Toledo Symphony on multiple occasions. At home, his family includes three children, including 12-year-old twins, Joe and Lilly, and 5-month-old son, Kygo. 
Joe's MVM Moving motto is: Treat every item like it is my grandmother's.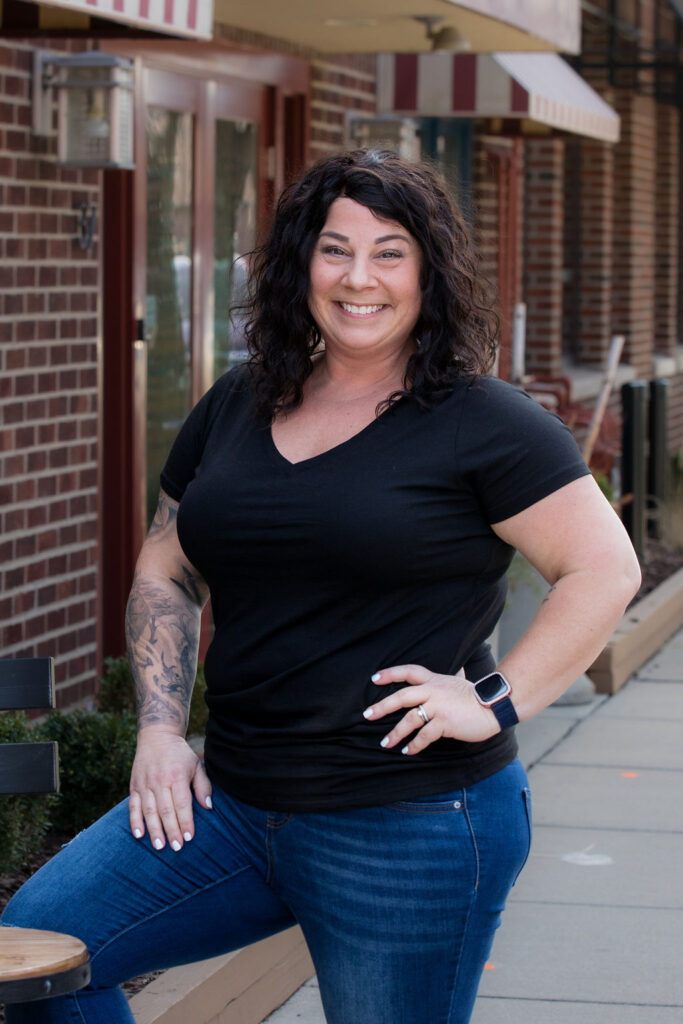 Autumn Boyer
Customer Care Specialist
What Autumn enjoys most about her role at MVM is assisting customers and hearing how much our team helped them during some of their most stressful moments of moving. Autumn had been in the medical field for over 20 years until, in 2021, she decided to make a change and it led her to MVM. "It was the best and scariest decision I've ever made," she said. She has a natural way of making people comfortable and is very easy to talk to. 
When not at work, Autumn enjoys going to the gym, trying new restaurants, vacationing anywhere and everywhere with the Caribbean being her favorite. She and her husband have four kids and two dogs. They enjoy hosting parties for friends and family, specifically in the summer to enjoy pool time, grilling out, and having a cold beverage. Her MVM Moving motto is: Get busy living or get busy dying.
MVM Toledo Location Staff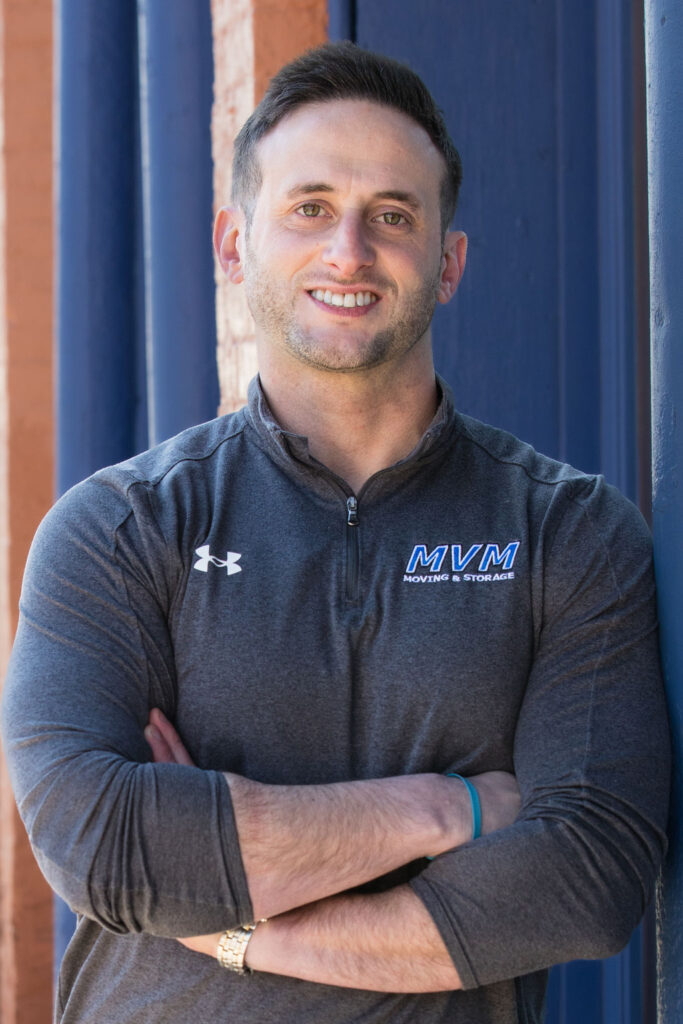 Brian Ramsey
Toledo Branch Manager
Brian started MVM's Director of Quality Assurance in 2020 and was promoted to Toledo Branch Manager in 2021. In his role, he is inspired working with a team as he supervises moving crews and provides training. Working both in the office and out on the crews, he strives everyday to give customers the best possible moving experience.

Brian holds a degree in economics from Boston College and brings prior career experience in finance, real estate, and business management. Interestingly, Brian was first introduced to the moving industry during college, working weekends and summers to pay tuition. When he's not working, Brian enjoys spending time with family at the cottage, fishing, camping, cooking, and catching Buckeyes and Browns games. Fun fact: Brian is an artist and self-proclaimed history nerd. He and his girlfriend, Karah, share an amazing son, Dane, and a multipoo named Remy. "They inspire me to work harder, continue learning, and to focus on self-improvement daily," he offers.
Brian's MVM Moving motto is: "Pick it up & put it down." – Ben Huenefeld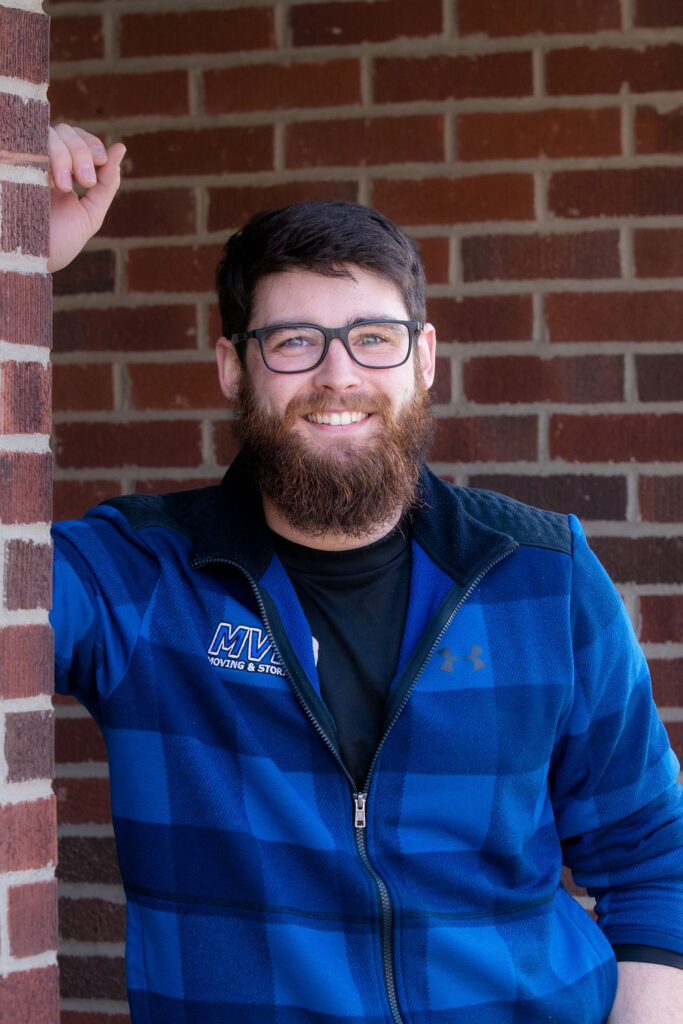 Jeff Treadaway
Field Manager
Jeff has been with MVM Moving since 2017 and currently works as a crew supervisor.
What he finds most rewarding about his role is being able to perfectly move a difficult piece that the customer was concerned about. As a professional mover, he is especially good at the disassembly and reassembly of complicated items, like workout equipment. And he has a natural ability for working compassionately with all types of customers.
Jeff is an EMT and is Fire 1 certified. Additionally, he played travel soccer for 12 years. After putting in a good day of work, Jeff loves working on cars and going to the racetrack. In fact, he and his girlfriend both have race cars. He also enjoys hiking and playing video games. He has two dogs and two pet rats.
Jeff's MVM Moving motto is: Slow is smooth and smooth is fast.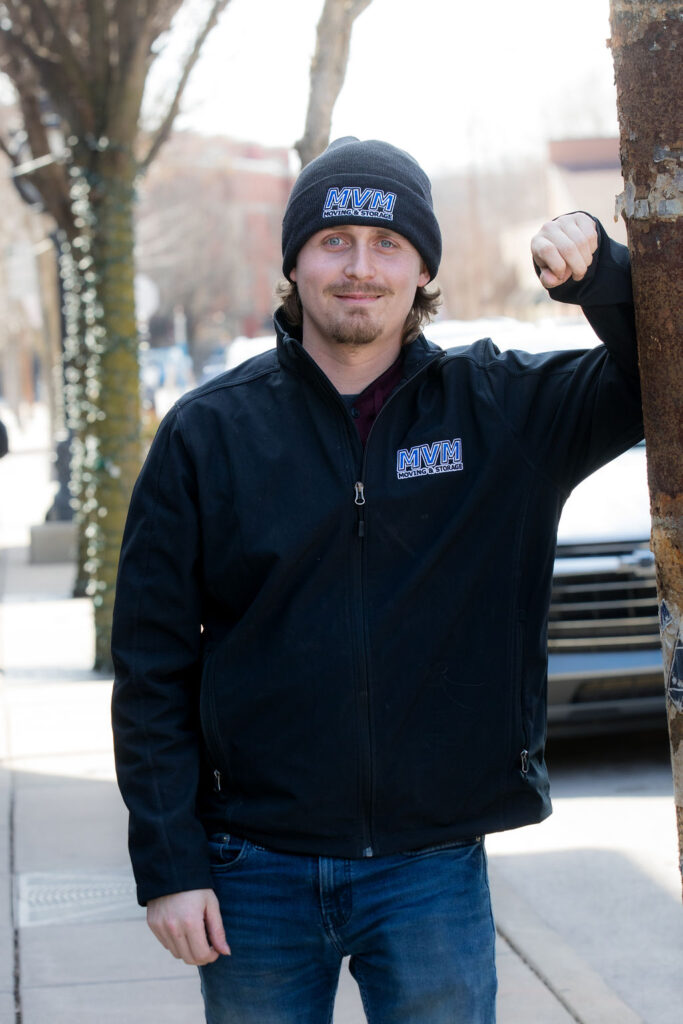 Shane Fitzpatrick
Dispatch & Warehouse Associate
Shane has been with MVM Moving since 2022 and currently works as our warehouse manager and dispatcher. What he finds most gratifying about his role is keeping moving jobs organized and efficient so at the end of day a customer says it was successful. "I am moved by seeing people go out of their way to help others in need," he adds.
Shane is a graduate of Ohio University with a bachelor's degree in meteorology/geography. He has always loved the science of weather and he would do the weather for his high school's morning announcements under his "on air" name, Funnel Cloud Fitz. 
Outside of MVM, Shane enjoys spending time with his yellow lab, Bo, golfing, playing street hockey, or being a GTIHL goalie at Ottawa Park in Toledo…and also following the weather.
Shane's MVM Moving motto is: Wrap it, pack it, stack it, strap it.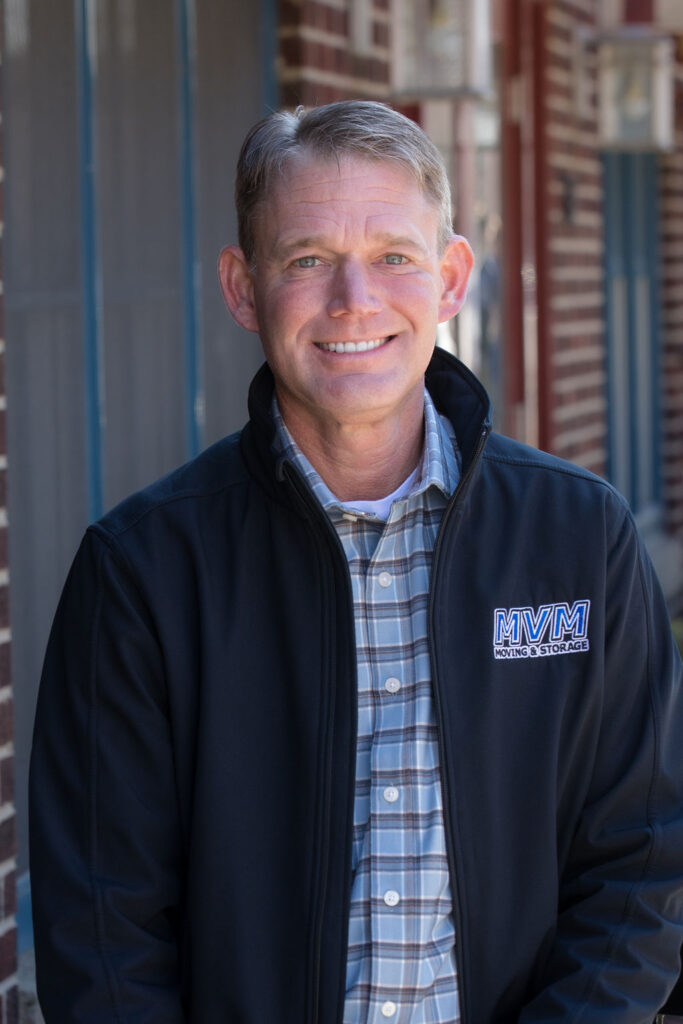 John Dubeansky
Accounting Associate
As a part of MVM's accounting department, John has the benefit of working independently yet still has many opportunities to collaborate with the team. He enjoys the unique and fun culture of MVM – everyone plays their part while sharing a singular focus to provide the best moving experience to our customers.
John brings more than 20 years of sales, marketing, and management experience working in both B2C and B2B roles. "I joined MVM because I was intrigued to work with a hometown success story as well as to embrace a new challenge," he said.
What moves John? The sense of accomplishment that comes from doing work that makes a difference, being productive, or acquiring a new skill. 
John enjoys the great outdoors and spending time on his family's farm in Pennsylvania. He has a daughter, Allison, and is proud to witness her milestones. "It seems like only a few years ago I was dropping her off at daycare," he said.
John's MVM Moving motto is: Treat other peoples' stuff like it's yours.
MVM Columbus Location Staff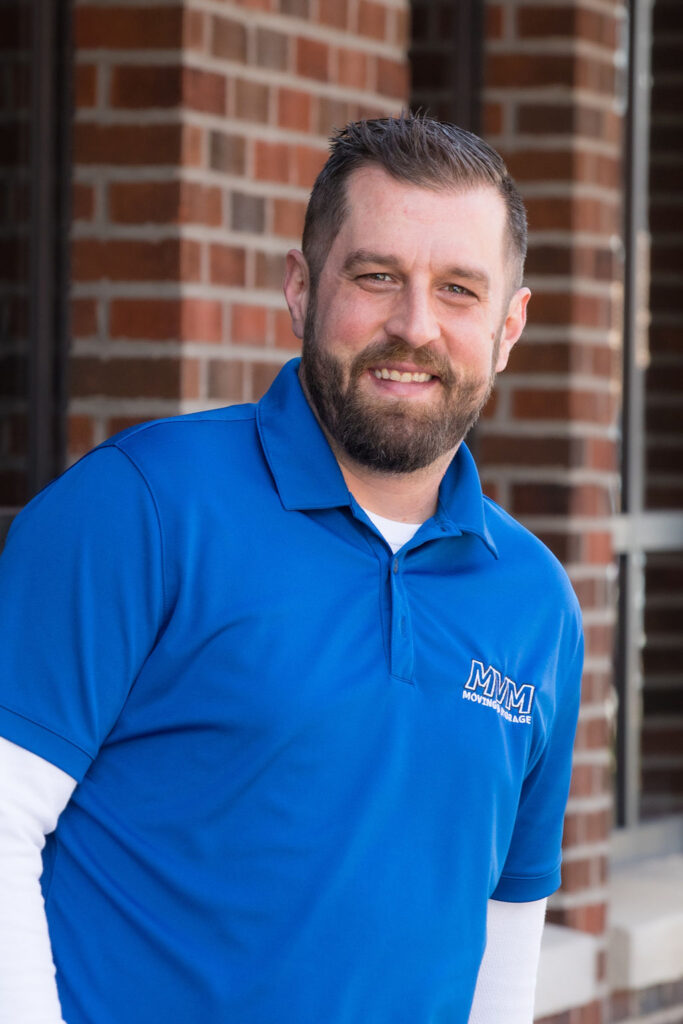 Lance Snyder
Columbus Branch Manager
In 2016, Lance joined MVM in Toledo as a sales professional, handling job roles such as sales, estimating, and dispatching. Soon he was offered the branch manager position at the MVM Columbus location.
Lance says the most gratifying aspect of his job is getting to help people move to places that they love, and figuring out the logistics for how to make it happen seamlessly. He is proud of the fact that the Columbus MVM location has tripled in size. 
Outside of MVM, Lance loves watching and attending college and NFL football games. He also enjoys being outside, freshwater fishing, deep sea fishing, and going to the gun range. Fun fact: Lance collects sneakers and loves the beach. Lance met his fiancé three years ago in Columbus and is blessed with two stepdaughters, Kaidyn and Logann. He also has two dogs, Vader and Leia.
Lance's MVM Moving motto is: Better to have and not need than to need and not have.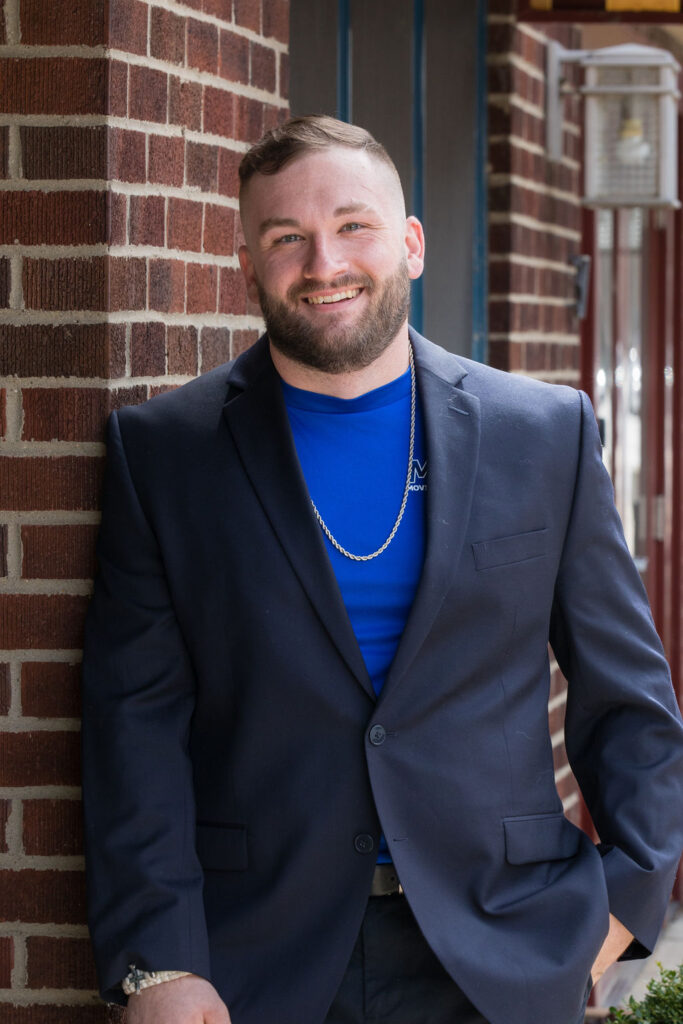 James Gragg
Columbus Assistant Branch Manager
James joined MVM in 2021 at the Toledo location where he learned quickly and was motivated to excel. He relocated to Columbus to be the head mover and was later promoted to assistant manager. James says the most rewarding part of his job is working with customers, providing exactly what they need, and ensuring they have the best moving experience possible. "I have more than ten years of logistics experience, top to bottom, and always have my customers' best interests in mind," he said. 
What moves James? Getting to help people, especially those customers who physically could not move themselves. "I love being able to lend a helping hand."
Fun fact: James has an associate degree in accounting and loves to read and play chess. James also enjoys weightlifting, traveling, and visiting loved ones. He thanks MVM for introducing him to his wife, Allie, as he met her when he moved her. James has two sons, Jaxson and Brody, and three dogs.
James' MVM Moving motto is: Don't sweat the small stuff.
MVM Fort Wayne Location Staff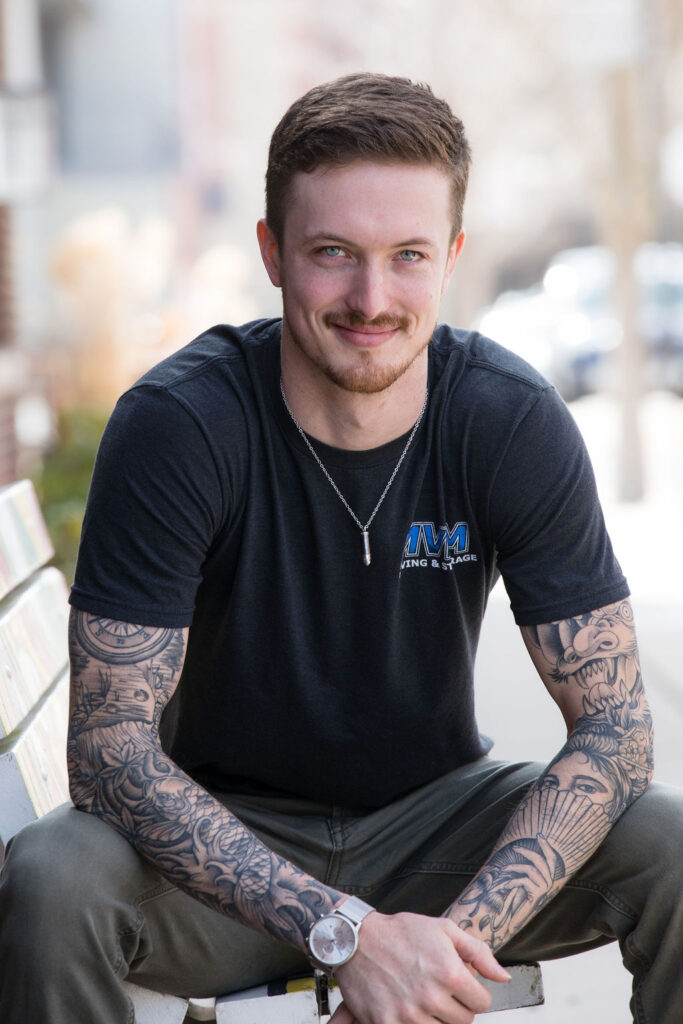 Jon Lucas
Fort Wayne Location Manager
Jon began working with MVM while just a sophomore in high school and has worked his way up through many jobs, including Driver, Crew Leader, and now Field Manager. In this role he's on the road to make sure things are running smoothly, MVM teams have the necessary supplies and equipment, and that our customers are happy with their move process. Jon is also the one who takes all the cool pics for our social media. "I enjoy being able to go out every day and make sure our crews have everything they need. I also love being able to capture our everyday moving process through the lens of a camera and showing people our true skills," he said.
After hours, Jon devotes time and energy to starting his own clothing business called JonBoi.co. He also enjoys doing car photography and videography, developing designs for his clothing company, and just being creative.
Jon's MVM Moving motto is: The person who says it cannot be done should not interrupt the person who is doing it.
MVM Fremont Location Staff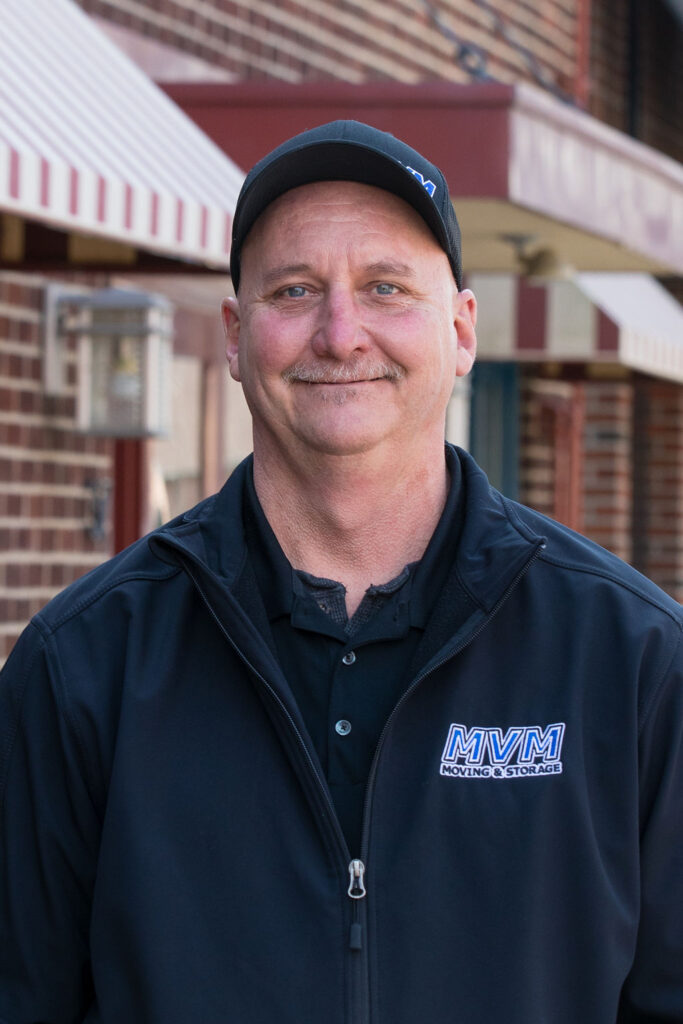 Scott Linker
Fremont Location Manager 
Scott has been with MVM Moving since we acquired Wholeslagel Moving in 2021. In his job role, he has been moving for more than 36 years – and still likes traveling. In fact, Scott has traveled over 1 million miles! As a member of our team, he says the most gratifying part of his job is helping the new guys out and being able to work much of his time outdoors.
Outside of helping MVM customers and employees, Scott enjoys hanging out with friends and family, and playing cards. What moves Scott personally? Being there for his family. Scott has two stepdaughters, Brittany and Stephanie.
Scott's MVM Moving motto is: When in doubt play it safe.