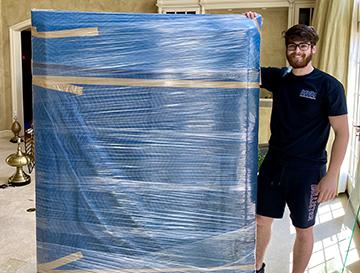 As professional movers, we understand that important moves don't always happen outside of the house. MVM Moving is ready to help you with any size job, big or small, including within your home or your business. During the current coronavirus pandemic, MVM Moving is taking extra precautions to ensure a safe moving experience for you and your belongings.
Our professional moving team is trained to handle those heavy or fragile items you may not be able to move yourself. Working with MVM Moving also ensures your move will be handled quickly and safely, all while staying on budget.
Furniture and Appliance Moving
Our staff regularly undergoes training to be ready to take on almost any kind of move, including moving specialty or antique items. We are most frequently asked to move large, heavy or fragile furniture or appliances for in-home moves.
Some appliances we regularly move for homes and businesses include:
Air-conditioning units
Refrigerators and freezers
Dishwashers
Washers, including front-load washers
Dryers, including front-load dryers
Gas or charcoal grills
Fitness equipment
Medical equipment
Copy machines
Some furniture we regularly move for homes and businesses include:
King-sized beds
Bedroom sets
China Cabinets/Curios
Wall units or entertainment centers
Large office furniture such as desks
Grandfather Clocks
Bookcases
Couches
Antiques
The In-Home Moving Process
To get started planning with the in-home moving process, you will have a free, no-obligation consultation with one of our move estimators over the phone or in person. During the consultation, we will discuss details such as what items you need to move, any special circumstances surrounding the items (such as if they are antiques) and the timeline of your move.
We can schedule in-home moving for any local residence or commercial space in the Columbus, Toledo, Fremont or Fort Wayne areas. Because we are local, we may also be able to take on last-minute moves as early as the same day. Most moves, however, are scheduled in advance.
Our estimator will use the details to provide you with a quote for our small job moving services. In-home moves are mover only services, meaning there is no need for a truck or gas, so the service can accommodate almost any budget. MVM Moving only accepts payment after your move has been completed and you are completely happy with the service. We do not require deposits or initial payments.
Our team will call to confirm your move a few days prior to your appointment, and will arrive on moving day with door jamb pads, furniture pads and other equipment needed to get the job done as quickly as possible. If needed, MVM Moving also sells additional moving supplies. If you have any additional questions about the moving process or would just like to speak with someone from MVM Moving, please feel free to contact us.