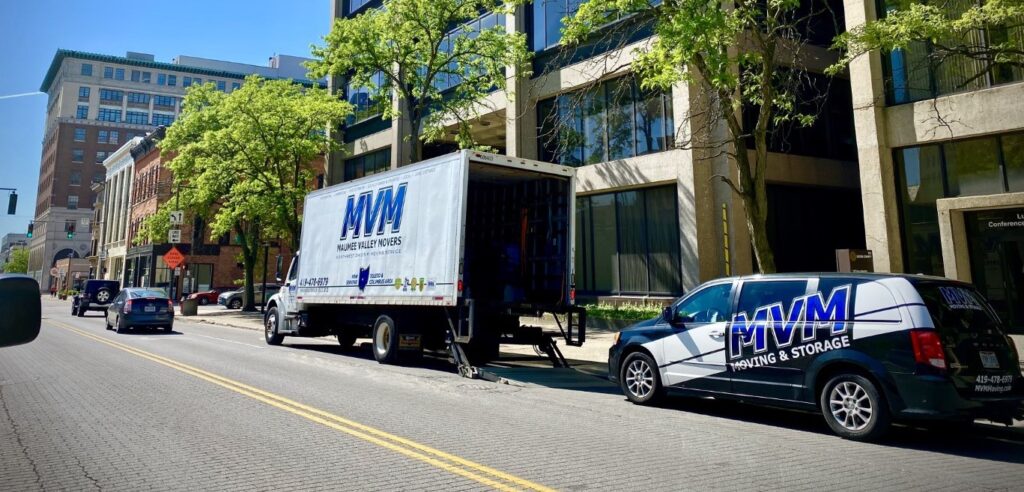 Moving can be an exceptionally overwhelming time in anyone's life. Considering all of tasks involved, such as purchasing and selling properties, arranging storage, and orchestrating the various moving parts, it becomes increasingly challenging to be present for your own relocation and adjustment. This predicament becomes even more pronounced with interstate moves, which can be physically and mentally exhausting.
However, the solution lies in relying on seasoned professionals like MVM. Our expertise not only eases the burden but transforms the experience entirely. Operating across four strategic locations—Columbus, Toledo, Fremont, and Fort Wayne—MVM is equipped to be your partner in navigating the intricacies of a cross-country relocation.
By choosing MVM, you not only save invaluable time but also find solace in a comprehensive approach that streamlines your unique move. Our team is great at meticulously planning and executing each phase of your move, ensuring that every facet aligns harmoniously with your budgetary considerations. The stress that once accompanied your relocation journey now transforms into a sense of organization, efficiency, and peace of mind.
Picture a scenario where the logistical hurdles, the uncertainties, and the fatigue of a long-distance move are deftly managed by a team that specializes in orchestrating these very challenges. This is the transformation that MVM brings to the table—an assurance that your move is not merely a change of place, but a change of experience. Embrace the prospect of a smoother, more organized transition by allowing us to be your trusted companion in this chapter of your life.
What Is a Long-Distance Move?
At MVM Moving, we define a long-distance move as any relocation that extends beyond a 100-mile radius from our prominent moving hubs located in Toledo, Columbus, Fremont, or Fort Wayne. Typically, these moves encompass interstate journeys, transcending state borders and embracing new horizons.
MVM proudly extends its interstate moving services to all states within the contiguous United States. Our seasoned team orchestrates seamless transitions for clients spanning Ohio, Indiana, Michigan, and an array of other states. Among the diverse tapestry of destinations we serve, some particularly sought-after ones include:
Florida: Unveil the allure of the Sunshine State as you embark on a journey to Florida, where vibrant cities and picturesque coastlines await your arrival.
North Carolina: Embrace the charm of North Carolina, where a blend of natural beauty and modern opportunities provide an ideal setting for new beginnings.
South Carolina: Discover the hospitality and history of South Carolina, a state that beckons with its warm climate and rich cultural heritage.
Tennessee: From the musical allure of Nashville to the scenic beauty of the Great Smoky Mountains, Tennessee offers a diverse landscape for your next chapter.
Kentucky: Let the Bluegrass State captivate you with its rolling hills, equestrian traditions, and welcoming communities.
New York: Experience the heartbeat of the nation in New York, a state of iconic cityscapes, cultural diversity, and endless possibilities.
Illinois: Settle into the heartland of America in Illinois, where urban sophistication meets Midwestern charm, creating a unique tapestry of experiences.
Texas: Venture into the vast expanse of Texas, where everything is famously bigger, from the landscapes to the opportunities that await.
Georgia: Immerse yourself in the Southern hospitality of Georgia, a state that boasts a blend of historic significance and modern dynamism.
At MVM Moving, our commitment goes beyond logistics; it's about curating an unparalleled journey as you transition to your new destination. With a breadth of experience and a dedication to excellence, we are prepared to turn the challenges of long-distance moves into a series of seamless steps toward a brighter future.
Interstate Moving
As a distinguished long-distance moving company, MVM Moving goes beyond the conventional concept of merely transporting belongings. We recognize the uniqueness inherent in every relocation and strive to provide the best possible experiences. While some seek the efficiency of loading and unloading services, others require the finesse of packing, unpacking, or the handling of delicate specialty items.
What truly differentiates MVM Moving lies in our unwavering commitment to delivering not just a service, but an experience—one that's tailored to your specific needs. We understand that the journey to a new horizon isn't just about the physical movement of items; it's about creating a seamless transition that resonates with each client's individual requirements.
Our reputation is anchored in our unyielding dedication to exemplary customer service and a moving experience devoid of stress. Opting for MVM Moving for your interstate relocation unveils a spectrum of advantages:
Comprehensive Consultation: FREE moving estimate and consultation, enabling you to plan your move with precision.
Protection Beyond Measure: Rest easy knowing that MVM Moving is fully licensed and insured, ensuring the safety of your cherished possessions throughout the journey.
Personalized Attention: Your dedicated moving truck and crew ensure that your relocation receives the individualized care it deserves.
Expertise in Motion: Our team of professionals is meticulously trained and possesses the experience needed to execute flawless transitions.
Velocity in Motion: Experience the swiftness of expedited moving services, tailored to fit your timeline.
Honoring Heroes: As a gesture of gratitude, we extend moving discounts to military personnel, firefighters, and more.
The MVM Advantage Bundle: Immerse yourself in the synergy of advantages that encompass the MVM Advantage Bundle, providing you with a holistic and unparalleled moving experience.
At MVM Moving, we recognize that your relocation journey encompasses much more than the mere movement of possessions. It's a transformation—an evolution from one chapter to the next. By entrusting us with this pivotal juncture, you're choosing a partner that's committed to weaving together every thread of your moving experience into a tapestry of efficiency, care, and excellence.
Our Long-Distance Moving Process
By recognizing the unique nature of each relocation, MVM Moving has designed a remarkably adaptable moving process that caters precisely to your requirements. While the specifics may vary, planning an interstate move with MVM Moving follows a structured trajectory, encompassing the following key steps:
Consultation: Your journey commences with a consultation—an opportunity to gain insights into your moving needs. We extend long-distance moving quotes, both over the phone and in person, ensuring transparency in our pricing. Importantly, MVM Moving distinguishes itself by not requiring deposits for round trip jobs to secure our services, a testament to our commitment to trust and customer satisfaction.
Scheduling: Your timeline is our compass. We collaborate with you to pinpoint a date for your move that aligns seamlessly with your plans. As the day approaches, our team maintains open lines of communication, reaching out to you days in advance to confirm all logistical details.
Packing: Should you choose MVM Moving to handle the packing process, our proficient team will arrive the day before the scheduled loading day to meticulously pack your possessions. This step is a testament to our dedication to meticulousness and ensuring the safety of your belongings.
Loading and Delivery: On the designated loading day, our skilled team embarks on the careful loading of your belongings onto our trucks. With precision and expertise, we ensure that your possessions are secured for the journey to your new destination, exemplifying our commitment to responsible handling.
Payment: MVM Moving's approach to payment underscores our focus on your satisfaction. We exclusively accept payment upon the completion of the move, a practice that reinforces our dedication to delivering on our promises before receiving compensation.
Throughout every stage of this process, the MVM Moving team is by your side, accessible to address inquiries and confirm delivery schedules. We recognize the significance of open communication and being a reliable point of contact during your transition.
With MVM Moving, your interstate move transforms from a daunting endeavor into a meticulously choreographed experience. Our dedication to transparency, professionalism, and customer-centricity propels us to continually refine our processes, ensuring that your journey unfolds with precision, care, and satisfaction.
Get Your Moving Quote
MVM Moving employs cutting-edge estimating software in tandem with our seasoned estimators to craft a precise quote for your long-distance move. The comprehensive cost of your relocation is meticulously calculated based on factors such as time, materials, and fuel requirements, ensuring a transparent and accurate assessment.
Our unwavering commitment to our clients has garnered MVM Moving a stellar reputation within our communities. We proudly boast an A+ rating from the Better Business Bureau, a testament to our dedication to excellence. Moreover, the voices of countless satisfied customers echo through the numerous reviews on platforms such as Angie's List, Google, and beyond.
Whether your journey takes you to or from the vibrant locales of Fort Wayne, Toledo, or Columbus, MVM Moving stands ready to simplify your long-distance move. Entrust us with the privilege of orchestrating your relocation, and experience the seamlessness and expertise that have become synonymous with our name.
To initiate the process, reach out to us at 844-424-MOVE, where our knowledgeable team members eagerly await your call. They will be delighted to provide you with a complimentary moving estimate that accurately reflects your unique requirements. For further inquiries or to delve deeper into our services, don't hesitate to get in touch with us through our contact information. At MVM Moving, we look forward to turning your relocation into a journey of ease, precision, and satisfaction.