SERVING MONROE AND SOUTHEAST MICHIGAN WITH MOVING SERVICES, SUPPLIES, AND STORAGE
Toledo, Ohio-based MVM Moving is pleased to provide moving, relocation, and transport services for our neighbors in Monroe, Michigan and the nearby surrounding cities of Southeast Michigan.
You don't move everyday, but we do
LET US MOVE YOU IN THE RIGHT DIRECTION
MVM Moving & Storage is a team of over 75 employees and a fleet of 30 trucks and state-of-the art equipment solely dedicated to protecting precious cargo for both residential and commercial clients.
We are one of the largest and most reputable locally-owned and operated moving companies in Ohio and serve clients in Toledo, Ohio; Columbus, Ohio; Fremont, Ohio; Fort Wayne, Indiana; Monroe, Michigan and the surrounding areas, and all across the United States.
MONROE, MICHIGAN MOVERS
When you need professional, reliable movers in Monroe, Michigan and communities near, MVM Moving is your best choice! We offer a full range of moving services and supplies for residential and commercial business moves.
our process takes the stress out of moving
Local Moves
We're here to help you move and take the stress out of local moves for our neighbors in Monroe, Michigan. Our Michigan moving service area team regularly provides local, short-haul moves in the Monroe, Ann Arbor, Detroit, and Greater Toledo areas.
Long Distance Moves
Our team is equipped to handle long-distance moves to and from Monroe, Michigan and cities throughout the Southeast Michigan region. We specialize in cross-country moves as well as regional moves to cities across the Midwest.
In-Home Moves
The MVM Moving team in the Monroe, Michigan service area also offers in-home moving services. Whether it's moving specialty furniture or a couch down the hall, you can count on us for your full-service moving needs. Additionally, we are specialists in moving heavy and unique items, such as piano moving and gun safe moving.
Testimonials
Check out what a few of our recent clients are saying about us!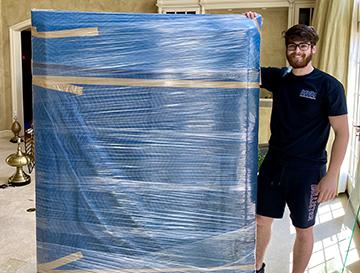 CONTACT US FOR MOVING HELP
Comprehensive moving plans and estimates are provided free of charge to anyone contemplating a move of any size. For your complementary, no-obligation moving quote, call MVM Moving at 844-424-MOVE (844-424-6683).
MVM Moving complies with all state and federal moving regulations, including membership to an arbitration program and compliance with motor carrier requirements (U.S. DOT 1444491 and PUCO 156647-HG).